BMI Bank signs BD 5 million Murabaha Financing Agreement with Majaal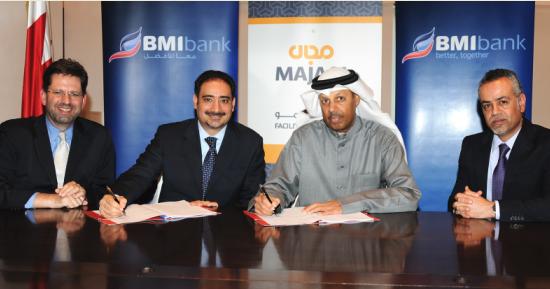 Under the terms of the Murabaha agreement, BMI Bank through its Islamic Banking unit will provide a BD 5 million, 7 year Commodity Murahaba facility to Majaal towards the construction of Phase II and III of the Warehousing Development Project at the Bahrain Investment Wharf (BIW).
The signing ceremony was held at the Bank's Bahrain World Trade Center headquarters in the presence of Jamal Al-Hazeem Chief Executive Officer (CEO) of BMI Bank, Amin Al Arrayed General Manager of First Bahrain Real Estate Development and Majaal, as well as senior officials from both organizations.
Commenting on the new partnership, Jamal Al-Hazeem said:
"Majaal was set up by First Bahrain as the region's first SME focused warehousing and logistics company. Located within the BIW, Majaal offers local and international businesses a one stop integrated state-of-the-art storage space solution and with the completion of its next phase, the company is poised to offer well over 260,000 square feet of secure, flexible and cost effective storage space, double the amount currently available.
Keeping in line with our commitment to serve as a responsible local bank that strongly supports the SME segment, it gives me immense pride to enter into this agreement with Majaal and become a part of the whole process that will help create further jobs and boost our country's industry and economy. This synergetic partnership further broadens BMI Bank's readiness to champion the nation's Vision 2030 plan as well as other initiatives that support local industrial projects to help them achieve their strategic goals for a better tomorrow."
Amin Al Arrayed, General Manager of First Bahrain Real Estate Development Company, the parent company of Majaal, said:
"We were very proud to partner with one of the most dynamic and reputable banks in the Kingdom of Bahrain. BMI Bank have a proven track record of offering competitive products and high quality services and have shown commitment and support to the SME sector in the Kingdom. There exists a strong alignment between the core objectives of Majaal and BMI Bank in their ongoing efforts to promote growth and diversification in the SME sector in Bahrain."
Speaking at the ceremony, Salah Khalifa Assistant General Manager & Head of Islamic Banking at BMI Bank said:
"The closing of this financing marks yet another milestone for BMI Bank and the Islamic Banking unit in particular. The additional liquidity from this facility will further strengthen Majaal's capacity to grow organically, support customers and continue as a local industry leader in offering warehousing facilities to different business sectors. This facility will also enhance Majaal's already strong structure, and we are pleased to partner with Majaal in this transaction. Majaal being an SME focused warehousing and industrial workspace provider is similarly aligned with our Bank's strategy in supporting SMEs within the Kingdom and the signing of this facility further demonstrates our commitment towards supporting local corporate and SME sectors in Bahrain."
Majaal, a wholly owned subsidiary of First Bahrain, announced mid last year the commencement of construction works of Majaal's second phase and that the project is scheduled for completion by the end of the second quarter of 2013. The announcement follows the achievement of full occupancy for Phase I of the project in 2011. Majaal's third phase will soon be constructed on another two plots at BIW and will be segmented into a warehouse area and an office area in addition to a business center and service area for Majaal. The facility will offer higher ceilings for increased storage capacity and raised flooring along with separate ramped vehicular access for each unit to secure easy on and off load of large trucks.