El Mercado Janabiya signs first lease with Alosra Supermarket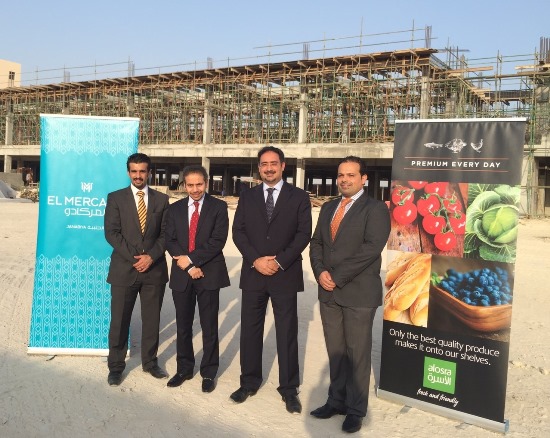 This announcement comes ahead of First Bahrain's public display of their project at the BIPEX real estate exhibition which will open at the Bahrain International Exhibition Centre this Thursday, 5 November.
"We were very delighted with the prospect of opening our seventh Alosra outlet in the kingdom, especially with El Mercado Janabiya," stated Jaffar Al-Asfoor, Vice President, Food Retailing and Production. "The new complex reflects the premium standards of quality Alosra constantly aims to achieve. We have no doubts that this is a suitable partnership that will only help us deliver on our promise of excellence. The Alosra brand is heavily focused on community involvement and giving back. Seeing that the site is located in a residential area, we look forward to welcoming residents and becoming a part of the community."
Commenting on the signing, Amin Al Arrayed, CEO for First Bahrain stated, "We are very pleased to welcome Alosra to become the anchor supermarket for El Mercado Janabiya. We are well aware of the strength of this brand and we are confident that it is the right brand for our project. Alosra's loyal customer base and quality product mix will certainly attract strong traffic to our development, providing support to our other tenants."
Alosra positioned as the fresh and friendly supermarket, was first established in 1987, with one branch located in the Central Market in Manama. Today, Alosra has six outlets in Bahrain, being Amwaj, Saar, Nakheel Centre, Riffa Views, Durrat Al Bahrain and at the Al Raya Complex in Juffair in addition to a recently opened branch in Dhahran Tower, Al Khobar, KSA.
Amongst the fresh food departments customers enjoy at Alosra are a bakery offering fresh out of the oven pastries and cakes, a butchery with the finest cuts of meat and a produce departments offering fruits and vegetables from all over the world. Additionally, the To Go variety of fresh sandwiches, crudités, salads and meals, are perfect for area residents needing a healthy ready-to-eat meal on the way home. Aiming to offer customers a personal in-store shopping experience and a variety of premium quality international products, Alosra foresees further growth in the near-future.