First Bahrain and KFH-Bahrain Sign Residential Project Finance Agreement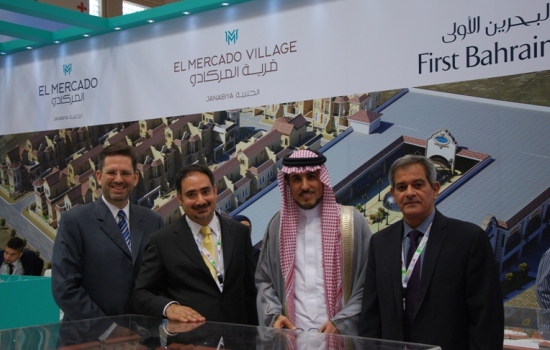 The residential phase of the mixed-use project will feature 42 villas and townhouses offering modern amenities with a classic touch. The Spanish tiles and styling employed by the project architects, Sanad Engineering, will make the homes complimentary to the iconic El Mercado Janabiya neighbourhood marketplace next door. The commercial phase of the project is nearing completion with a soft opening due within the coming month. In advance of its opening, the retail centre is already 86% leased.
The new community, known as El Mercado Village, is being launched at the Gulf Property Show. The homes are expected to be complete by the end of 2017. Thanks to funding from KFHB, First Bahrain is committed to build the entire development without pre-sales. Prospective home buyers may register their interest in acquiring one of these signature homes at the event.
Amin Al Arrayed, Chief Executive Officer of First Bahrain commented: "We are very pleased to have KFHB's support for this new residential project. The trust we have built working together on multiple projects over the past eight years gives us optimism and confidence as we look forward to this new venture. KFHB has been alongside us since our very beginning and our success has been their success.
Sattam Al Gosaibi, Head of Corporate Banking Group for KFH-Bahrain, stated: "We are happy to see this project go on to the second phase and wish it every success. Having funded First Bahrain's industrial development in 2008, we have now worked together for over eight years. Relationships are important to us as evidenced by this enduring partnership."
Located in Block 575 of Janabiya, residents will have direct access to the Sh. Isa bin Salman Highway, offering a quick trip home from Manama or a straight shot to Saudi Arabia. The adjacent El Mercado neighbourhood market offers a range of cafes and dining options, services, shops, and anchored by the country??'s largest Alosra Supermarket.