First Bahrain announces contracting deal for USD 45 Million warehousing development at BIW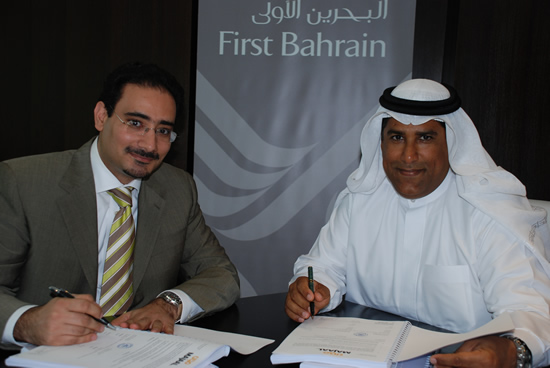 The deal is for the first phase of the USD 50 million development which means construction will now begin in earnest. The signing follows First Bahrain's acquisition of additional land within the BIW, taking the total land area of 716,000 square feet. The first warehouses are due to be delivered in 9 months, with the entire project due for completion in 18 months.
First Bahrain's at BIW project is aimed at raising the bar for warehousing development in the Kingdom of Bahrain by developing modern spatial solutions to cater to the needs of small to medium enterprises (SMEs). The warehousing space will be divided into individual units, starting with 1,000 square feet, and with an option to combine them to accommodate larger tenants' needs.
Amin Al Arrayed, General Manager of First Bahrain, commented: "In spite of harsh times, we are proud to transform our concepts into built reality, and our partnership with Abdullah H. Al Darazi & Sons Co. cements this vision. The development will meet the genuine need for warehousing that is well maintained, secure and easy to access."
The warehousing development, in close proximity to the new Shaikh Khalifa Port, is a prime example of First Bahrain's demand-driven investment approach, as well as its leadership in exploring untapped opportunities in Bahrain's real estate market. The development also reflects First Bahrain's entrepreneurial spirit and its ability to differentiate its offerings.
Bahraini firm Abdullah H. Al Darazi & Sons, places an emphasis on ensuring its business practices and projects positively impact local and international communities. The company is involved in a wide variety of ongoing projects from private villas to maintaining government owned buildings and pipeline construction among others.
Mr. Mansoor Al Darazi, Managing Director of Abdullah H. Al Darazi Co. commented: "We won this contract on our merits and experience after a thorough selection process, and are pleased that our work indeed fills a niche for the Bahraini SME market. Our remit is to deliver a top quality project, within the timeframe and with attention to detail and quality – all deliverables that we are extremely confident of achieving. We are extremely thankful to the First Bahrain officials for keeping their trust in us to deliver the quantified amount of work with high quality standards, which is acknowledging our company standards in the Bahrain SME market irrespective of the current economic crises
In addition to the physical warehousing space, the development will offer a range of value-added services, including a 24/7 security service, state-of-the-art ICT provision, assistance on fit out, and leasable forklifts. The small to medium, modern and safe warehousing spaces can be used solely for storage, or as a combined storage facility / office, ideal for encouraging startups and smaller companies, and in allowing existing companies to expand.