First Bahrain Announces Impressive Financial Results for 2007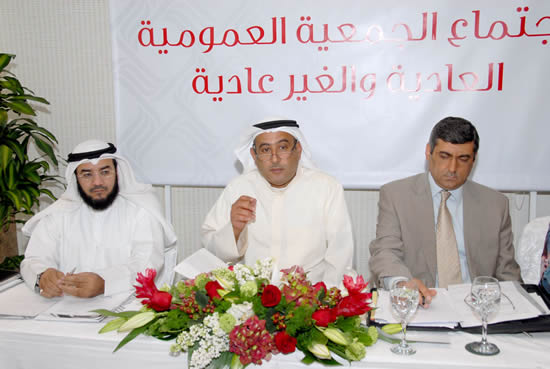 Given this financial achievement the board decided that it was appropriate to begin dividend payments to the company's shareholders, recommending 10% dividend, half of which would be paid in cash and half in shares. The company now has a paid up capital of KD30 million. The return on equity (ROE) achieved was 12.5%.
Speaking on the announcement of the company's excellent performance, Mr. Ahmed Al Bahar, Chairman of First Bahrain commented "First Bahrain has laid solid foundations in 2007, forged through strong collaborative and strategic relationships and a commitment to both international best practice and our core Sharia principles. Our 3-year plan is on target and we're confident and excited about our future growth within the marketplace."
Mr. Amin Al Arrayed, General Manager of First Bahrain, added, "First Bahrain's solid track record of achievement and success is underpinned by the commitment and dedication of the internationally qualified management team. Each member is highly skilled in all aspects of real estate development, from long-term investment strategies to project construction, ensuring professional involvement at every stage of project development."
"The opening of two new offices in Bahrain and Kuwait has been a significant milestone in the growth of First Bahrain. "They have enabled us to develop a solid investor base in both countries whilst an increasingly liberal economic environment is driving increased foreign direct investment in both countries" commented Amin Al Arrayed.
The success of 2007 has paved the way for many ambitious projects. First Bahrain's flagship USD 450 million Seef Project in the Kingdom of Bahrain will comprise office buildings, residences and a Sharia compliant five star hotel. In addition, approval was obtained for a subdivision of the Seef plot which was subsequently sold netting a significant return. First Bahrain also successfully acquired land for the Bahrain Investment Wharf, a USD 25 million project comprising warehousing and logistics facility situated on 43,000 square meters near the new Shaikh Khalifa Port at Al Hidd, Bahrain.
A key priority for 2008 is the expansion of the company's operations across the region, as set out in our corporate plan. First Bahrain's focus on developing both its commercial portfolio and its human capital over the past twelve months has afforded the company a robust platform to achieve the broader goal of a listing on the Kuwait Stock Exchange (KSE).
Amin Al Arrayed would like "to thank all our staff, at all levels, in both Bahrain and Kuwait for the commitment, drive and dynamism they have shown during the past year. To the Board, I offer a very sincere thank you. My thanks also go to our strong base of Middle East investors for their unwielding support over the last few years."