First Bahrain Highlights 2009 Achievements During The Shareholders Annual General Meeting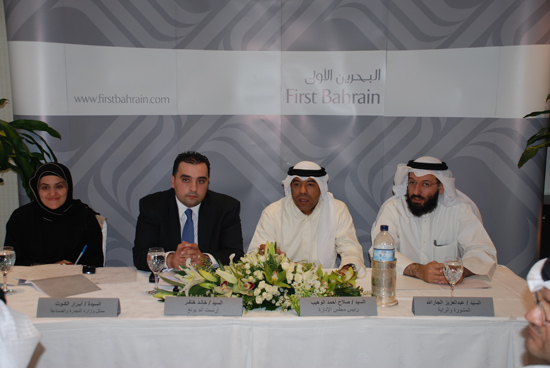 Highlights of 2009 included the successful completion of Phase I of First Bahrain's innovative project Majaal, Bahrain's first small to medium enterprises (SME)-focused warehousing and logistics facility that was completed on time and on budget. Leasing commenced earlier this year and both local and international companies have already signed on as tenants.
Briefing the company's shareholders, Mr. Salah Al-Wuhaib, Chairman of First Bahrain, said: "I am pleased to review with you the company's main achievements during 2009, a year of significant progress for the company despite the global economic difficulties. We are proud to report that 2009 saw the completion of Phase I of Majaal, which has since gained tremendous response and, I am proud to say, was named the best industrial property in Bahrain at the 2009 Gulf Real Estate Awards."
"First Bahrain has reported a loss of KD 2.41 million, due solely to a conservative reduction in the value of its land bank in Bahrain. Despite this loss, First Bahrain finished 2009 with its current assets being 8 times greater than its total liabilities, highlighting the solid liquidity of the company and its debt free position."
The Chairman also noted that in the face of sustained uncertainty, First Bahrain embarked on a defensive strategy for the year, seeking to control costs and structure the company for future growth. In this regard, a petition was successfully filed for the subdivision of First Bahrain's 236,000 square feet of land in the Seef district of Bahrain, subdividing the plot into seven smaller areas, ranging in size from 21,000 to 77,000 square feet. The newly subdivided plots will offer the company flexibility to develop or sell the land in phases, in keeping with market conditions. Likewise, the provision taken on the value of the land better positions the company to structure an economically viable land sale or joint venture in the year ahead.
"In 2010, we will continue to build the follow-on phases of Majaal, and study the possibility of activating the planned commercial and residential mixed-use development for our land at Janabiya, with an eye on opportunistic acquisitions as conditions warrant", Al-Wuhaib added.
In closing, Mr. Al-Wuhaib thanked First Bahrain's management and staff and expressed his sincere appreciation to the company's shareholders, clients and investors for their continued trust and support.