First Bahrain Unveils Majaal – the Kingdoms First SME-Focused Warehousing and Logistics Company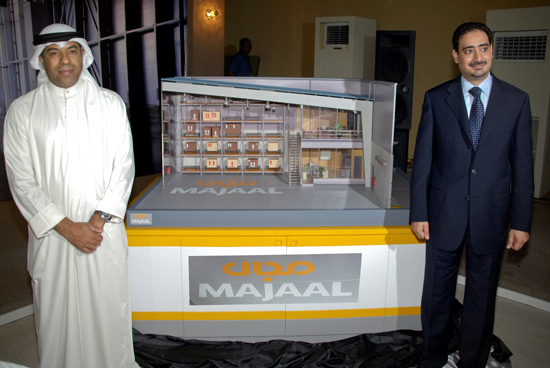 Strategically located within close proximity to the Shaikh Khalifa Port, the first Majaal propery is a USD 45 million project spanning 716,000 square feet. Majaal will offer secure and cost effective storage solutions tailored specifically to meet the needs of the small to medium enterprises (SMEs). Majaal is also unique in that it offers more than just storage solutions – it incorporates a number of value added features such as the fit-out support, racking installation, and a business centre offering logistics support and rental of support vehicles such as forklifts.
Amin Al Arrayed, General Manager of First Bahrain said: "First Bahrain is very pleased to be delivering on our promises. Despite market conditions, we stand in a position of financial and operational strength. Majaal is a perfect representation of First Bahrain's demand driven approach to real estate investments, and we look forward to further developing this concept and expanding Majaal across the region."
He added: "I would like to sincerely thank our principal shareholders from KAMCO, Al Zumorrodah, Housing Finance Co "Iskan", Action Group and Wafra International Investments, partners and our team whose strong backing and expertise are invaluable to us as an organization, and who have been instrumental in seeing plans for Majaal come to fruition."
Construction work on Majaal is nearing completion with the target date for handover from the contractor being December 2009. Recently appointed leasing agent DTZ is promoting the facility in earnest and is now accepting tenant reservations. The high quality, flexible and secure storage space is available from as little as 250 square metres to as much as 1000 square metres to accommodate needs of all tenants. The facilities offer the inclusion of a mezzanine structure, toilets, kitchenette and AC provision to accommodate for an integrated office space, ideal for startups and smaller companies, especially those seeking to consolidate multiple storage and office sites into one integrated solution.
There are numerous other value added factors which set Majaal apart from its traditional warehouse counterparts, one of which is its user friendly website, which will incorporate an online procurement and billing system, complemented with a set of premium facility management services. In addition to the physical warehousing space, the development will boast a range of services that cater to the needs of tenants including 24 hours a day, seven days a week security service, state-of-the-art information communication technology provisions, assistance on efficient design and use of space, and a range of other value added services.