First Bahrain's Majaal Attracts Anchor Tenant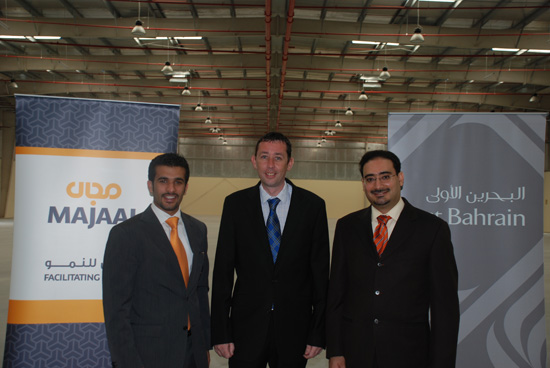 Amin Al Arrayed, General Manager of First Bahrain and Board Member of Majaal Warehouse Co., commented on the agreement saying: "I would like to welcome Pods Bahrain to Majaal's integrated business community as our anchor tenant. Majaal represents our initiative to support and strengthen Bahrain's emerging industrial segment of the SME sector, an area of major focus for stimulating growth in economies around the globe. This key partnership endorses Majaal's unique offerings which exceed current market standards in providing secure, cost effective warehousing facilities for tenants."
Mr. Arrayed added: "Since its launch, Majaal has gained significant interest from companies not only in Bahrain but across the region. With five tenant agreements signed, representing 45% of the total leasable space in phase one of the development, and many more prospective tenants in the pipeline and we are very pleased to see the validation of our concept and the success of this project."
Moving its headquarters to Majaal will allow Pods Bahrain to expand its manufacturing operations which are currently conducted at Mina Salman, while accommodating the additional space requirements it has for the assembly of prefabricated bathrooms and kitchen units in a quality-controlled environment.
Matthew Mullins, Managing Director of Pods Bahrain said: "The availability of cost-effective and flexible spaces in this prime location at the new Salman Industrial City in Bahrain, have allowed us to move our administration, manufacturing and storage facilities to a common location, streamlining functions and facilities that were previously disparate. The cooperative environment created by the proactive, hard-working and creative Majaal team has made it the ideal location for quality industrial facilities in Bahrain. With this move, we are looking forward to expanding our business and enhancing productivity."
Majaal, First Bahrain's inaugural project, is located within the Salman Industrial City at the Bahrain Investment Wharf, providing easy access to Khalifa bin Salman Port and other major transport links in Bahrain. Majaal presently offers 130,000 square feet of secure, flexible and cost effective storage spaces. In occupying an entire warehouse building at this SME-focused warehouse and logistic facility designed to service the needs of the industrial sector, Pods will also enjoy a set of value-added services that set to raise the bar for such facilities.
The convenient and high-quality storage units are complemented with set of services that include 24 hours a day, seven days a week security service, state-of-the-art information communication technology provisions, assistance on efficient design and use of spaces available as little as 250 square meters to as much as 1000 square meters. This is in addition to professional facilities management, and onsite forklift rental and logistics support.
Photo Caption: L to R – Khalid Shaheen, Majaal Business Development Associate; Matthew Mullins, Managing Director of Pods Bahrain and Amin Al Arrayed, General Manager of First Bahrain and Board Member of Majaal Warehouse Co. at the Majaal facility.