Majaal Phase 1 Construction Complete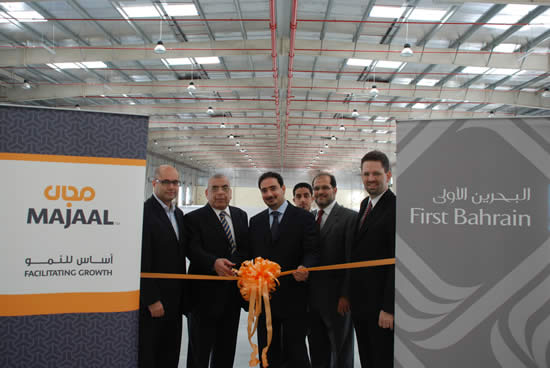 Since its launch in October 2009, Majaal has received a wave of interest from businesses, both local and international, looking for integrated and modern storage solutions with value added services. Majaal offers a prime location, situated within the Salman Industrial City, it is in close proximity to the major transport links of Khalifa Bin Salman Port and Bahrain International Airport.
Amin Al Arrayed, General Manager of First Bahrain and a Board Member of Majaal Warehouse Co., cut the ribbon for Majaal's opening, and commented: "The achievement of this milestone comes at a significant time for the Kingdom, with His Majesty the King celebrating the first 10 years of his rule and recently inaugurating both the Khalifa Bin Salman Port and the Salman Industrial City. For First Bahrain, the on-time and on-budget completion of construction represents a major and tangible accomplishment by the team and puts us in good position to execute on projects in the year ahead."
He continued, "I would especially like to thank our superb project partners whose hard work and dedication produced this achievement, being our contractors, Abdullah H. Al Darazi Co., our design consultants and engineers, Tebodin Middle East, our cost consultants, BWS Middle East."
Majaal Warehouse Co is the region's first small to medium enterprises (SME) focused warehousing and logistics company, with its first phase delivering 130,000 square feet of secure and cost effective storage spaces tailored to stimulate business growth of its tenants. Majaal is also unique in that it incorporates a number of value added features which are set to elevate the standards of warehousing and logistics sector in the Kingdom
In addition to the physical warehousing spaces, units are complemented with range of services that cater to the needs of tenants including 24 hours a day, seven days a week security service, state-of-the-art information communication technology provisions, and assistance on efficient design and use of spaces available as little as 250 square meters to as much as 1000 square meters.