Majaal Signs Lease Deal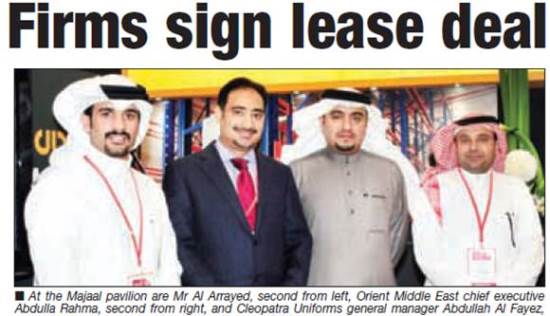 First Bahrain general manager Amin Al Arrayed, who is also managing director of Majaal, told the GDN that the joint venture firm has leased a 250 sqm facility at Majaal's warehouse in the Bahrain Investment Wharf, Hidd.
First Uniform Company, a joint venture between Bahraini firm Orient Middle East and Saudi's Cleopatra Uniforms, will be setting up a specialised and industrial use uniforms manufacturing factory at the premises.
First Uniform expects to start operations three months from now and will employ 30 people initially.
The company would look to hire as many Bahrainis as possible, officials added.
Mr Al Arrayed said he assesses the company's turnover at about $1 million.
"We are very pleased to offer tenancy to manufacturing units because of the value-addition and downstream economic opportunities," he added.
Please click here to read the story on the GDN website.