Majaal Signs Up for Gulf Industry Fair 2013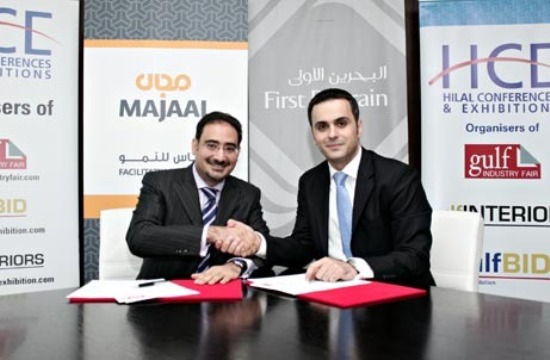 Under the agreement, Majaal – which last participated in the Northern Gulf's premier business-to-business dedicated industrial show in 2011 – will be the principal strategic sponsor of the 'Industrial Facilities' show segment. Making its debut in 2013, this new segment reflects the increased importance of industrial manufacturing and the SME sector to national economic objectives.
Since opening in February 2010 Majaal – a wholly-owned subsidiary of First Bahrain Real Estate Development Company – has enjoyed consistent growth, and achieved full occupancy for its 12,000 sq m first phase late last year. Against a background of renewed stability in the local business environment, coupled with First Bahrain's confidence in the Kingdom's economic outlook, the Company is now embarking on the second phase of its $45m development at the site in Bahrain Investment Wharf.
When completed in the second quarter of 2013, the second phase will double the total leasable space developed by Majaal to date, providing state-of-the-art facilities ready for occupation by both niche manufacturing companies and/or organisations seeking secure, flexible and cost-effective storage space, all in close proximity to major transport links connecting Bahrain to the region and the world.
Jubran Abdulrahman, Managing Director of HCE, says, "Majaal represents the new generation of industrial cluster projects which are integral to Bahrain's long-term economic plans. Given that one of HCE's strategic goals is to position Bahrain as the northern Gulf's industrial hub, it is fitting that Majaal – which has attracted significant inward foreign investment to the Kingdom since it was established – should choose Gulf Industry Fair 2013 to promote its expanded capabilities to a regional audience."
Amin Al Arrayed, General Manager of Majaal, says, "Having commenced our expansion which will be ready for occupancy on June 2013, we need to announce to the world that we now have space available for leasing. There is no better venue to make this declaration than at Gulf Industry Fair."
"In addition to the visitor footfall that comes into the exhibition, the Fair offers opportunities to interact with other participants, expand our network and explore synergies with them. We also benefit from the strong traffic flows from Saudi Arabia. Of several relationships we have advanced in Saudi Arabia since 2011, one was a direct result of our previous participation at Gulf Industry Fair, demonstrating that the fair is a place where real business is done," he added.
Gulf Industry Fair 2013 will be held from 15 to 17 January 2013 at the Bahrain International Exhibition and Convention Centre (BIECC).