Majaal Signs with ESPAC Building Materials Co.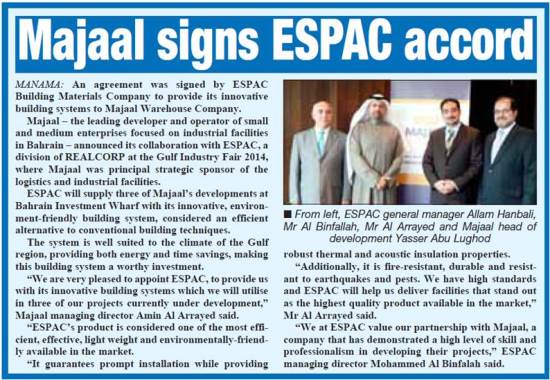 ESPAC will supply three of Majaal's developments at Bahrain Investment Wharf ("BIW") with its innovative, environmentally friendly building system, considered an efficient alternative to conventional building techniques.
ESPAC is a division of REALCORP in affiliation with ESPAC Saudi Arabia, ESPAC is Saudi-Emirates based company, is introducing a construction method which utilizes load bearing walls using autoclaved aerated concrete products such as Jumbo Blocks, slabs, lintels, and pre-fabricated, load bearing vertical walls, roof tiles and partition panels. This system uses precast aerated concrete (PAC) that provides a wide range of benefits including high thermal conductivity, acoustic insulation, and fire resistance. The system is well suited to the climate of the Arabian Gulf region, providing both energy and time savings, making this building system a worthy investment.
Amin Al Arrayed, Managing Director of Majaal commented: "We are very pleased to appoint ESPAC, to provide us with its innovative building systems which we will utilize in three of our projects currently under development. ESPACs' product is considered one of the most efficient, effective, light weight and environmentally-friendly available in the market. It guarantees prompt installation while providing robust thermal and acoustic insulation properties. Additionally, it is fire-resistant, durable and resistant to earthquakes and pests. We have high standards and ESPAC will help us deliver facilities that stand out as the highest quality product available in the market."
Mr. Mohammed H. Al Binfalah, Managing Director of ESPAC commented on the signing: "We at ESPAC sincerely value our partnership with Majaal, a company that has demonstrated a high level of skill and professionalism in developing their projects. ESPAC was established in 2011 and has its production plant on a 60,000 m2 property in the Dammam Industrial City, including an additional area allocated for future expansion. ESPAC has branches in Riyadh, Jeddah and Al-Khobar in addition to its sole agents in Bahrain, Qatar, Kuwait and Iraq.
The company expects to achieve further success in the upcoming year, especially after having received approval from Bahrain's Ministry of Works in May 2013 for the use of its system in the Ministry's projects. After successfully passing the Dubai Municipality lab test, ESPAC has now also been approved by the Electricity and Water Conservation Directorate. Approval is currently being sought from Bahrain's Ministry of Housing".
Majaal is located within the Salman Industrial City at the Bahrain Investment Wharf, providing easy access to Khalifa bin Salman Port and other major transport links in Bahrain. Majaal presently offers 260,000 square feet of secure, flexible and cost effective industrial facilities for SMEs representing a broad range of industrial activities. The facility is currently under expansion and will soon offer an additional 140,000 square feet of space.
The convenient and high-quality industrial facilities at Majaal are complemented with array of services that include 24 hours a day, seven days a week security, state-of-the-art information communication technology provisions, assistance on efficient design and use of units available from as little as 2,700 square feet to multiples of 10,700 square feet. All these standard features are supported with professional facilities management, onsite forklift rental and logistics support.
Please click here to read the story on the GDN website.