Majaal Supports Local Artist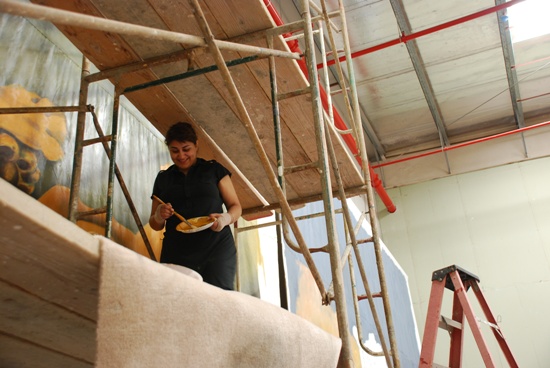 Majaal is pleased to be a supporter of this event, through the provision of a temporary art studio in one of its units at its SME-focused industrial facility located at the Bahrain Investment Wharf, where Mariam spent nearly over a month preparing her two six meter high canvases. Inspired by Renaissance art yet with a uniquely contemporary twist, the exhibition will be accompanied by a show of preparatory sketches and a video of Mariam at work in her temporary art studio at Majaal, where she had to erect scaffolding to be able to draw with charcoal and oil on such large canvases.
The exhibition will open on Sunday, 21 October 2012 at 7pm and will run until 3 November 2012. The opening hours of the Bin Matar House are Saturday-Thursday 9am-1pm and 4pm -7pm.
Commenting on the announcement, Amin Al Arrayed, General Manager of First Bahrain Real Estate Development Co., the parent company of Majaal, commented: "We are very pleased to be able to support the arts here in Bahrain, and Mariam's work in particular. The conversion of our unit at Majaal into a temporary art studio emphasizes the flexibility of our SME-focused industrial facility for a variety of applications and reaffirms our commitment to support small business and people like Mariam with entrepreneurial spirit."
Mariam Haji also commented: "I greatly appreciate Majaal for their enthusiastic and generous support by allowing me to use their space. I would also like to thank Majaal for all the means in which they looked after me during my time working in their facility. I deeply appreciate that companies like Majaal are open to supporting artists. I believe Majaal is the first to do so and this gesture affirms my artistic practice."
Born in Bahrain in 1985, Mariam Haji gained a diploma in art and design at Dundee College, Scotland, and later completed a Bachelor's degree in Fine Arts, specializing in drawing, at the Royal Melbourne Institute of Technology (RMIT) in Melbourne, Australia. Her artistic practice deals with ideas of mortality, the abject and feminism.
After completing her degree, Mariam stayed in Melbourne and worked as a Middle East Project Manager for Metasenta projects at RMIT where she has been heavily involved in producing new work, taking part in various art shows, and is actively engaged in creating and conducting programs aimed at exposing art from Bahrain and the Middle East to the rest of the world, in addition to working with Art workers Alliance as a Project Officer for the Brisbane ARC Biennial 2009.
Since then, Mariam has focused her studio practice in Bahrain and was recently awarded the first prize of Bahrain's 38th National Fine Art award for her "Kill the Muse" series. Her current art practice explores the subject of mortality and how mortality awareness within individuals has changed through time and cultures.
Her previous works involved working with ideas of dialogue, the social context of art in public spaces, the female, the abject and gender. She works in a wide variety of mediums including drawing, painting, sound, installation, public art, performance and video art.
Mariam's aim for the future is to produce art works that are provoking and challenging. She hopes to deepen the questioning process within an individual and provide an opportunity for new perspectives. Her main ambition is that the art work she produces will help develop an understanding of mortality that is not disturbing but instead illuminating, a work that allows us to reflect on our humanity in the context of being temporary identities.