Majaal to be Long-Term Home for Abudawood AlSaffar Co.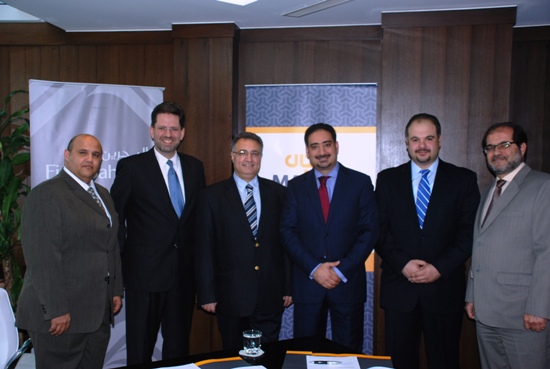 Abudawood AlSaffar's selection of Majaal to develop their new distribution centre affirms Majaal's position as the preferred provider of industrial facilities in the Kingdom. Abudawood AlSaffar will occupy 75% of a new 145,000 square foot facility which will be built on land presently held by Majaal at the Bahrain Investment Wharf (BIW) in Hidd.
This signing follows the announcement of the new USD 13 million financing package arranged with BMI Bank to pay for the construction of both the remaining phases of Majaal's development.
Speaking at the signing, Jihad Jrab, General Manager – Bahrain, Yemen & Pakistan for the Abudawood Group, stated: "These secure and flexible state-of-the art facilities, are complemented by the well- established professional support which Majaal delivers. These factors make these facilities ideal for our present and future logistics and distribution needs. These new facilities will add speed and efficiency to our service offering, hence allowing to achieve true excellence in customer service."
Amin Al Arrayed, Managing Director of Majaal Warehouse Co. commented on the signing, saying: "I would like to welcome Abudawood AlSaffar to Majaal's business community. Further diversifying our tenant base, we are especially proud to now be associated with this prestigious organization, the market-leading distributor of globally recognized brands. We deeply appreciate the trust placed in our team by Abudawood AlSaffar, believing that we will deliver their facility on time and to specification, by the end of the first quarter 2014. We expect to deliver the facility early, just as we seek to exceed the expectations of all of our clients. We are looking forward to a very successful partnership."
Majaal is located within the Salman Industrial City at the Bahrain Investment Wharf, providing easy access to Khalifa bin Salman Port and other major transport links in Bahrain. Majaal presently offers 130,000 square feet of secure, flexible and cost effective industrial facilities for a SMEs representing a broad range of business activities. In choosing to base its logistics and distribution centre at Majaal, Abudawood AlSaffar will also benefit from the value-added services offered which raise the bar for such facilities.
The convenient and high-quality industrial facilities at Majaal are complemented with array of services that include 24 hours a day, seven days a week security, state-of-the-art information communication technology provisions, assistance on efficient design and use of spaces available from as little as 2,700 square feet to as much as 10,700 square feet. All this is in addition to professional facilities management, and onsite forklift rental and logistics support.