Mazaya Appoints Majaal to Oversee Development and Leasing of New Warehouse Project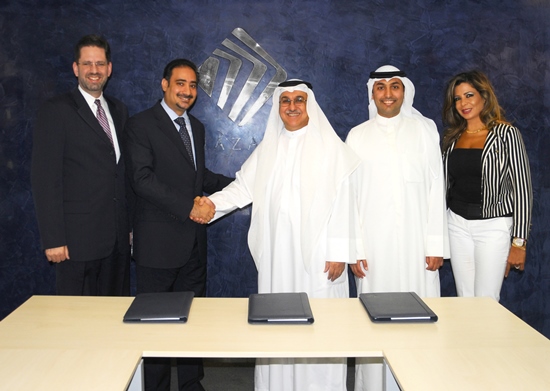 Mazaya has selected Majaal to provide consulting services beginning with a feasibility study, continuing with oversight of the design and construction process and concluding with the management of the leasing of the facility. Majaal has developed expertise in each of these areas in the development of its own properties since its founding in 2008. As it now takes a significant step forward in providing these services for a third party, Majaal is securing its position as the preferred provider of industrial facilities in the Kingdom.
This signing follows the announcement of a USD 13 million financing package arranged with BMI Bank to pay for the construction of Majaal's own development at BIW along with its signing with the Abudawood AlSaffar Co as the anchor tenant for the new facility.
Speaking at the signing, Mr Rashid Al Nafisi, the Chairman of the Board of Directors, said, "Following a resent study of its extensive real estate portfolio across the Middle East, Mazaya has chosen to first proceed with the development of its 27,605 square meters of leasehold land at the Bahrain Investment Wharf."
Commenting on this project, Eng. Ibrahim Al Sagabi, acting CEO of Al Mazaya Holding said, "In a move designed to enhance the success of the project, Mazaya has decided to implement the project in collaboration with Majaal, which is considered one of the leading professional companies in the development and leasing of industrial and logistics facilities in Bahrain."
Al Sagabi went on to say that Majaal will be tasked with managing the developmental process of the project as well as the selection of engineering offices and qualified contractors, to facilitate the project's implementation. Majaal will furthermore be responsible for attracting tenants, as the company has ample experience in the Bahraini market, after the successful implementation of its similar projects.
On his part, Mr Amin Al Arrayed, Managing Director of Majaal Warehouse Co. expressed his pride with regards to the initiation of this new relationship with Mazaya, stating, "We are very honoured to be recognized as a leader in development and management of industrial facilities and to be chosen by Mazaya to implement this project for them is a significant step forward for us as a company. We will be working hard over the next year and a half to deliver on all aspects of the agreement, both in terms of quality and in keeping with the agreed timeline. We will show ourselves to be worthy of the trust that Mazaya has placed in us as we prove that we can deliver for third parties in the same way that we have delivered for our own company."
The new Mazaya project will be located within the Salman Industrial City at the Bahrain Investment Wharf, providing easy access to Khalifa bin Salman Port and other major transport links in Bahrain. The new facility will offer over 140,000 square feet of secure, flexible and cost effective industrial facilities for SMEs supporting a broad range of business activities.
These convenient and high-quality industrial facilities will be complemented with array of services that include 24 hours a day, seven days a week security, state-of-the-art information communication technology provisions, assistance on efficient design and use of spaces available from as little as 2,700 square feet to as much as 10,700 square feet.
Photo caption (from left to right):
Daniel Taylor, Head of Operations & Finance, Majaal Warehouse Co.;
Amin Al Arrayed, Managing Director, Majaal Warehouse Co.;
Rashid Al Nafisi, Chairman of the Board of Directors, Al Mazaya Holding Co.;
Eng. Ibrahim Al Saqabi, Acting Chief Executive Officer, Al Mazaya Holding Co.;
Eng. Salwa Malhas, Executive Vice President for Business Development and Marketing, Al Mazaya Holding Co.