Project team appointed for Janabiya neighbourhood retail development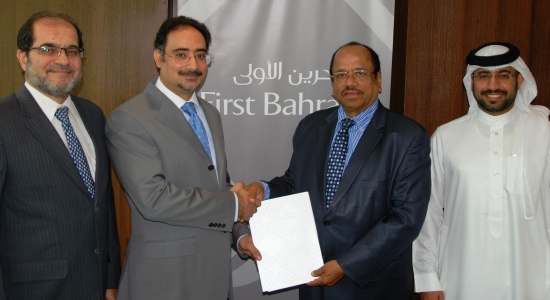 Amin Al Arrayed, Chief Executive Officer of First Bahrain, commented: "We are very pleased to announce the appointment of this project team for our Janabiya development. With Almoayyed Contracting Group and Sanad Engineering contributing their vast knowledge and wealth of experience, I can say with utmost confidence that we are well positioned to achieve success in the execution of this project."
The project team is already at work on the first phase of development which will initially span an area of over 86,000 square feet in Block 575 of Janabiya. Situated at the corner of Avenue 27 and Road 7151, the project is a neighborhood retail centre which will offer over 48,000 square feet of leasable retail space from the second quarter of 2016.
Commenting on this new relationship, Mr. M.T. Mathews, Director & Chief Executive Officer of Almoayyed Contracting Group, said: "We sincerely appreciate the confidence placed in us by First Bahrain for choosing us to lead this new innovative project. This project is our first opportunity to work together with First Bahrain and we are fully determined to deliver a top quality development with hopes of more fruitful ventures in the future."
First Bahrain says that it chose Almoayyed Contracting Group because it maintains a dedicated team of engineers, skilled workers, and uses the latest construction methods. As further evidence of the reasoning behind their selection, First Bahrain cited the company's proven capabilities in the execution of multi-million projects including high rise towers, residential villas, and a school.
Expressing his pleasure at the partnership Mr. Salman Sanad, Managing Director of Sanad Engineering, commented: "We are delighted about being appointed as the Architect and Engineers for this exciting project with First Bahrain. Our main objective is to create an iconic development that embraces Janabiya's identity and culture while also becoming the prime outlet of choice in the area."
Sanad Engineering has over 24 years of experience of delivering projects ranging commercial, retail, healthcare, and industrial sectors. First Bahrain chose to appoint Sanad Engineering because they are one of the best in the business with their class of international engineers who mirror their brand of innovation, quality and reliability.
Furthermore Mr. Yasser Abu-Lughod, Chief Development Officer of First Bahrain, added that he is also excited about the team appointed for the project and is fully confident that the team will execute the project to the best quality on time and within budget. He also added that the team have already mobilised at site and is expecting to have the project completed by second quarter in 2016.